In a federal election year all eyes will be on the incoming government and the agenda they set to take the economy forward. Regulatory and legislative change has been cited as the top concern for Australia's corporate organisations, accelerated by the rapid pace of change, and growing expectations of technology versus the harsh realities of data privacy and security amid a wave of cyber attacks.
2019 looks likely to be a year marked with significant ups and downs. On the upside, the impending general election has every potential to create a platform that fosters growth and change. However, the scaling back of planned migration, including skilled labour, and limited focus on powering research and development-related innovation through a mix of spending and tax breaks, are areas that may hamper growth and deter overseas investment.
"2019 looks likely to be a year marked with significant ups and downs."
The Australian economy looks set to deliver a 28th consecutive year of growth; tempered by political and economic volatility which is shaping expectations of a global economic slowdown with the flow-on change to investor risk appetite, and concerns about growing trading tensions.
Brexit and the risks associated with the 'leave' and 'remain' agendas look certain to dampen Eurozone growth for the remainder of 2019. Blackrock evidenced this in its 2019 Global Economic Outlook Report, "We expect no immediate flare-up in the region's political risk but believe investors are underappreciating medium-term threats to European unity."
Australian house prices, and the housing market generally, remains a hot topic; with the market sustaining a downturn and investors taking a fresh view on balancing risk and reward, and the prospect of negative gearing being tackled by the incoming government. While there is an upside for real estate agents and house builders as employment opportunities open up, at the same time, Australia's two largest markets, Sydney and Melbourne, continue to track downwards, there is a growing sense the good times are on the wane.
The 2019 Federal Budget eased itself in without major debate, with limited reform and fiscal measures on the agenda. As with any budget announcement, there were winners and losers in the mix, without anything particularly innovative or controversial being offered up.
Highlights include the instant write-off for small business assets, which will be extended to medium-sized businesses with the threshold increased from $25,000 to $30,000 per asset. The promise of doubled apprenticeship payments of $8000 will no doubt act as a sweetener for businesses with skills shortages and production shortfalls.
Infrastructure was a big ticket winner with $100 billion pledged to major road and rail networks across several states to improve connectivity between Australia's major trading centres. While this will be welcome news to civil construction and engineering operators, it is expected that investment levels have reached their peak in 2019 and will start to decline from 2020 onwards.
Cyber security remained on the funding agenda, with almost $35 million pledged to combat activities that undermine Australian democratic institutions. The proposed introduction of cyber 'sprint teams' and a Cyber Security Response Fund all point towards growing concerns about national security, following a spate of cyber attacks in the past 12–24 months.
Elsewhere, Frydenberg's buoyant perspective on surplus and growth, viewed by some as being through rose-tinted spectacles, forecasts 2.75% and 3.0% year-on-year growth over the next three to five years, and a Federal Budget returning to surplus. If this plays out as expected, the flow-on benefits in the form of personal tax cuts and additional government expenditure will play an integral role in maintaining the current year-on-year growth trajectory, at least for the foreseeable future. A contrasting global view was presented by economists at the Union Bank of Switzerland, predicting that multiple Reserve Bank interest rate cuts will be required by the end of the year, potentially as soon as July. As we move beyond the federal election, we will continue to monitor this situation with interest.
Australia macro and commercial insurance forecasts and outlook trends (YOY%)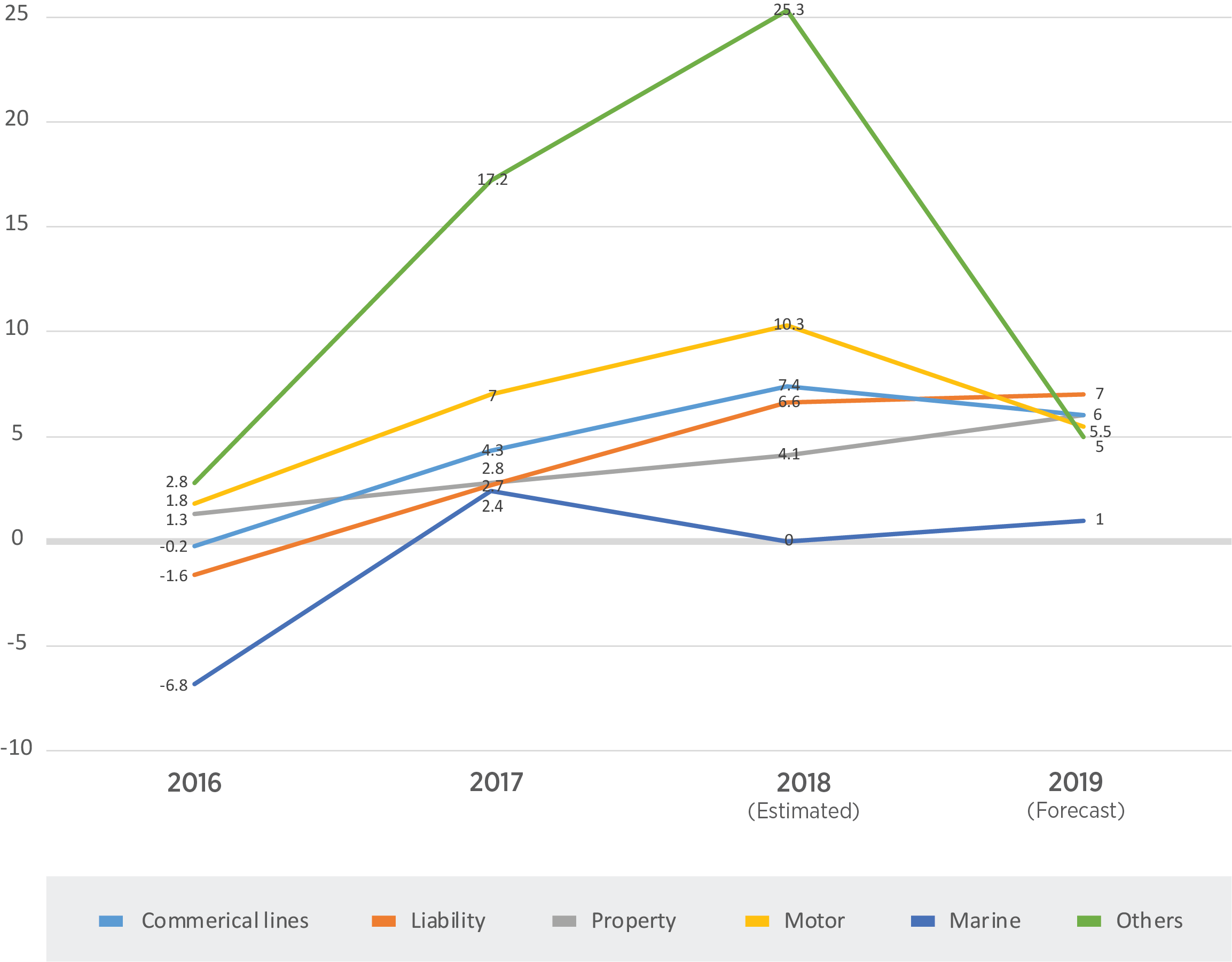 Australian Insurance Market Overview
Hardening rates in 2018 drove upward premium movement, supported by positive economic momentum and ongoing capacity constraints across a number of lines, which have led to increased offshore and international placements in markets such as London and Singapore.
Capacity challenges remain across a number of lines including meat and livestock, food and beverage, recycling, EPS and directors' and officers' Side-C insurance. This has led to placement challenges and the search for new markets, following domestic insurers backing out of commercial lines that no longer fit their risk profile, as they continue to work on remediating their books.
6% premium growth forecast for 2019
Swiss Re, in its 2019 Australian Insurance Market report, is projecting 6% premium cost growth this year. Broadly speaking, this varies between carriers, and a strategic risk review as part of your renewal process will present a more accurate picture on what this means for your organisation specifically.
The Allianz 2019 Risk Barometer ranks business interruption (BI) as a top three business risk for Australia, which is mirrored across major markets globally including the United Kingdom, United States and Asia-Pacific. Business interruption remains one of the leading underinsurance and risk exposures for corporate organisations. The continuity risk scenarios businesses face vary from supply chain disruption, technology breakdown and data leaks through to acts of terrorism and political violence, which create a challenging agenda for those charged with managing risk programs.
With property damage claims on the rise, underwriters are placing increased scrutiny on having an accurate picture of organisational risk practices, with emphasis on risk surveys and mitigation reports, claims history analyses and expectations of site visits.

For the first time, cyber joins business interruption as an identified major risk. In some respects, cyber presents a complex dilemma for the underwriter, given the covert nature of the threat and the innovative methods used by the perpetrators to hack accounts, steal data and extract money. The perpetrator isn't the only concern, shareholders and customers are pushing back and seeking damages for losses associated with data breaches, IT outages and system failures.
The global premium pool for cyber cover and the expected risk exposures do not currently correlate. This is in part due to the challenges of gaining an accurate picture of the frequency and severity of cyber losses with the rapidly evolving nature of this risk. In this situation, the spectre of exposure and underinsurance is omnipresent. With the frequency of reported cyber events on the rise, we would generally recommend a review of your current cyber risk approach. In previous years many organisations have covered cyber risk through an extension to their property policy, as one example, which offers limited cover when compared to cyber-specific standalone cover.
Elsewhere, climate risk continues to weigh heavily on the Australian business community, with the spectre of financial loss, business continuity pressures and the impact on supply chains and third-party vendors, all adding to an overarching call for united action by insurers to put in place the appropriate safeguards to protect businesses. While climate risk is in some respects unpredictable and at the mercy of the elements, organisations operating in high-risk zones should take particular care to ensure all appropriate safeguards are in place, should a weather-related event affect normal day-to-day business operations.
Over the next 12–18 months as the market continues to transition, we will continue to keep you abreast of significant market changes through this report and our 1:1 conversations with your team. Should any of the above information present questions and/or concerns, our corporate advisory team is available to discuss your risk program, and recommend any changes required to respond to prevailing business needs.
Mark Oatway
Managing Director – Placement
T: (02) 9242 2062
M: 0408 346 173
E: mark.oatway@ajg.com.au
Sources:
Deloitte Insights (February 2019)
'Global Investment Outlook' Blackrock Investment Institute (BII) (2019)
'The Australian Insurance Market' Swiss Re Institute (November 2018)